Featured | 01 September 2021
CPL Aromas' sustainability mission for 2021 (and beyond)
It's impossible to ignore the danger our planet is in. The effects of climate change are becoming more visible (and worrying) by the day. In May alone, global emissions rose to 419pmm – the highest measurement since records began. It's becoming increasingly urgent for governments, businesses and citizens alike to take collective responsibility and act now.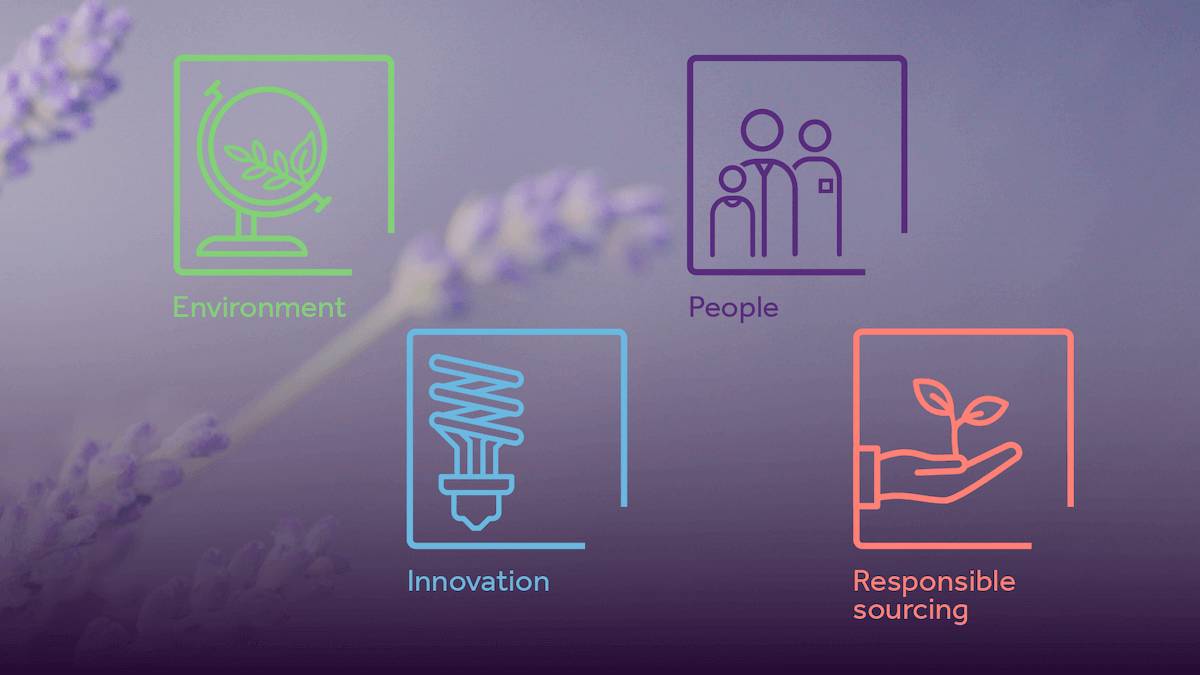 Sustainability has always been at the heart of CPL Aromas and the work we do. We're committed to preserving our planet's resources, and have a four pillar approach that covers every aspect of our business and ensures we stay as sustainable as possible in each area.
But there is always more that can be done.
Here's how we plan to tackle sustainability for the rest of 2021 and beyond, within each of our core pillars.
Environmental goals
The next big environmental focus is our Scope 3 emissions – our indirect emissions. Scope 3 emissions include things like business travel, logistics, waste and water. For us (and most businesses), this is the biggest contributor to our carbon footprint.
Our other environmental goals include:
Achieve 100% renewable electricity by 2030

50% reduction of Scope 1 and 2 emissions by 2030

20% reduction in our global municipal water consumption by 2030

Zero waste to landfill by 2030
People goals
For society to flourish, all members must have their basic needs met and their human rights protected. This is why our sustainability mission for our people goes beyond just our own business, and includes everyone we work with across the globe.
For 2021 and going forward, our People objectives include:
Developing at least one local community project at each CPL site

Increasing support towards global corporate social responsibility projects year on year

Achieving zero "lost time accidents" – an accident an employee gets while working on-site
Sourcing goals
We strive to only source responsible ingredients for our applications and fragrances that help secure a stable, sustainable supply. It's one of the things we're most proud of, and something we're already championing – with an ever-growing number of responsibly sourced ingredients on our fragrance palette.
The next goals for sourcing include:
Assessing 100% of our suppliers for their commitment to sustainability by 2030

Developing responsible purchasing agreements for 10% of natural ingredients by 2030
Innovation goals
We constantly innovate to drive sustainable business and come up with better ways to do what we do. This is how technology like EcoBoost is born, which creates high impact fragrances using just 10% of the normal dosage to save on waste, packaging, energy, transport and disposal costs.
To drive this forward, our goals include:
Increasing our use of EcoBoost across applications

Developing biodegradable technology for AromaCore.

Improving our overall communication around sustainability and our focus
How we can help you
We've got big goals. But while we're working on those, we can still help ensure your fragrance project is sustainable, resourceful and helps us lead positive, transformational change.
We're seeing consumers making more sustainable lifestyle choices, being mindful of their consumption and giving attention to products that are ethically and socially responsible – companies must keep pace with this.
When we work on a fragrance project with you, we'll assess your needs against our capabilities. This means we may include technology like EcoBoost to prevent waste, or AromaCore for lasting effectiveness. We can use our Trend Sets to support your requirements – which includes biodegradable fragrances, upcycled ingredients and responsibly-sourced ingredients.
Most importantly, we can help each and every one of our customers greatly improve their Scope 3 emissions metric, thanks to our sustainable practices, technology and ways of working.
It's a worrying time for the environment, but it's not too late. Together we can be a positive change, and lead the way with better working practices and more responsible products.
Want to start work on a more sustainable fragrance project? Get in touch with your local CPL representative to see how we can help you.
Related blog posts