France | Our Creative Talent
Dominique Preyssas
Senior Perfumer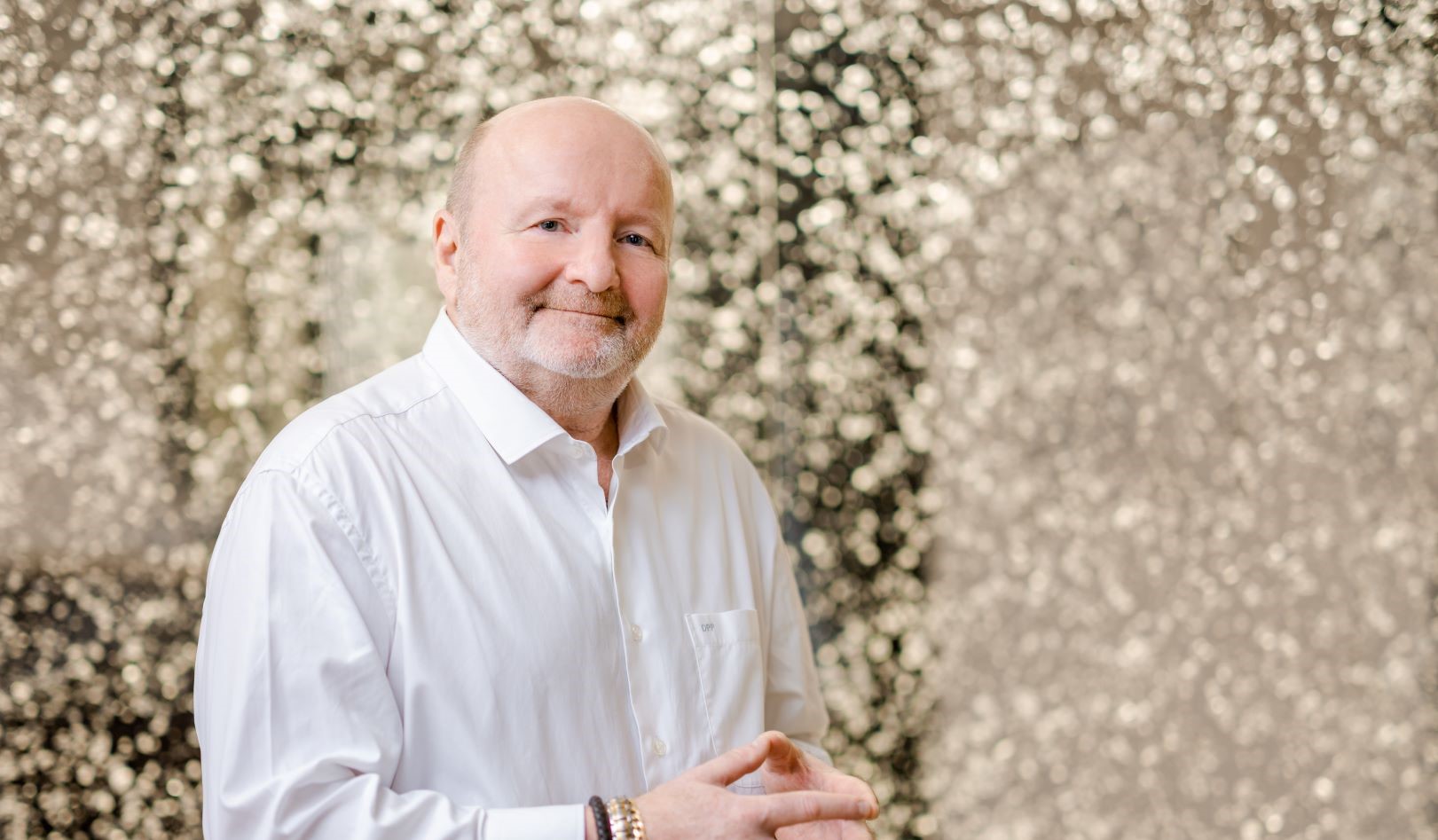 Smell is a word, perfume is a literature!
Dominique Preyssas is a prolific fine-fragrance perfumer whose work stands out for its precision, its beauty and its power.
---
An extraordinary technician, Dominique abandoned a scientific path after obtaining his degree in chemistry. He patiently studied a further three years at ISIPCA in order to pursue his passion for art and composition.
What inspired you to become a perfumer?
I grew up in a scientific family – my father was a surgeon, my mother was a mathematics major whose own mother was a Science teacher and all my brothers are either doctors or engineers! But many members of the family are also musicians, so the combination of science and creativity, or beauty, is a genetic combination I suppose. I studied chemistry, but once I graduated I realized it makes a lot of rather unpleasant smells and my nose just hated it! My parents bought a house near Cannes and I was lucky to discover perfumery via the wife of the architect. I immediately knew it was for me.
Where did you train/hone your skills?
I was part of the first year of the ISIP in Versailles – graduating in 1983 and then continuing my training in Grasse at the Perfumery School at Roure Bertrand, then as an assistant and junior perfumer at Mane Fils. I moved to Paris to join the newly created Takasago in 1986, staying 15 years before joining CPL. At Takasago I worked with the great Pierre Bourdon, who I had met at Roure originally.
Are there processes of a project you enjoy the most?
Actually, I love every part! The scientist in me loves the challenge of formulating – finding the right materials at the right price – the aesthete in me loves the pure beauty of smelling creations, imagining new ideas, gathering inspiration from other artistic sources. But it is especially satisfying building relations with clients, getting to understand their brands, markets and personal preferences – and seeing their satisfaction as a project is launched and becomes a best seller. I have been lucky to work with clients – and colleagues – from around the world, which is definitely one of the most enjoyable aspects of the role.
What feeling do you get when you see one of your creations on shelf?
It is always a very proud moment. I have a very large collection now at home – I keep one of everything I have ever made! I also try and keep in touch with clients to know how my creations are being re-bought. That is the true measure, that people come back for it time and again.
Do you have any other passions outside of perfumery? - do you think it aids you in your role?
We all need passions outside of our work, to recharge the batteries and get inspiration when and where we least expect it. I play tennis every week since a very young age and added golf about 20 years ago. Discovering golf was like discovering perfumery – I had no idea I would even like it, yet it feels like part of my DNA. I suppose they are similar in their combination of technique, chance, beauty of nature and the sensation of winning!
What ingredient do you enjoy using the most? why does it stand out to you?
I am a big fan of a new generation of molecules around amber, a family that includes ambrocenide, norlimbanol dextro. They are extremely powerful, long-lasting and can be used pure, or diluted, allowing all sorts of effects from adding volume and strength to the whole composition to giving a clear, super-modern amber, dry woody or animal signature. I have been using these a lot in niche fragrances for both men and women.
What are your thoughts on sustainability and CPL's efforts?
The subject is so important and I am especially glad to see CPL take a leading role. However the part that impacts me daily is the selection of ingredients for their sustainable sourcing. To ensure the future of perfumery we need to adapt all aspects of the development chain to keep a broad supply of beautiful naturals. Lately I have won some luxury fragrances which will be showcasing our gorgeous sustainably-sourced naturals. Happily it is now a consumer demand as well as a planet essential.
Do you have a method for applying fragrance?
Personally I use fragrance very generously- I spray mainly after dressing and spraying my shirts – but I don't recommend that for women, or sensitive materials. For the most long-lasting effect it is still best to focus on the 'pulse points' the neck and behind the ears, but also behind the knees, and in the elbow creases. For extra diffusion – a touch on the hemline of a skirt or dress.
What do you think the future of fragrance looks like?
Beautiful. Apart from proving our adaptability to providing greater sustainability, this last year has consolidated our place in the people's lives. We have seen how people need fragrance and are even ready to buy online, with only descriptions and visuals to guide them. Whether it is personal fragrance or home fragrance. In fact, I believe this can be even better than walking into a big store and being deluged with smells. It is definitely an alternative. Online sellers are now offering samples with your purchase so you can send the main size back if it's not for you. This will change the game. Fragrances will have to continue to adapt to the growing need for safety in all product formulations, but we have always done that and as perfumers, we love a creative challenge!
FRENCH VERSION
Qu'est-ce qui vous a poussé à devenir parfumeur?
J'ai grandi dans une famille scientifique - mon père était chirurgien, ma mère était une majeure en mathématiques dont la propre mère était professeur de sciences .. tous mes frères sont soit médecins, soit ingénieurs! Mais beaucoup sont aussi des musiciens, donc la combinaison de la science et de la créativité, ou de la beauté, est une combinaison génétique, je suppose. J'ai étudié la chimie, mais une fois diplômé, j'ai réalisé que ça dégageait beaucoup d'odeurs plutôt désagréables et que mon nez détestait ça! Mes parents ont acheté une maison près de Cannes et j'ai eu la chance de découvrir la parfumerie via l'épouse de l'architecte. J'ai tout de suite su que c'était pour moi.
Où avez-vous formé / perfectionné vos compétences?
J'ai fait partie de la première année de l'ISIP à Versailles - j'ai obtenu mon diplôme en 1983 puis j'ai poursuivi ma formation à Grasse à l'Ecole de Parfumerie de Roure Bertrand, puis en tant qu'assistante et jeune parfumeur chez Mane Fils. J'ai déménagé à Paris pour rejoindre le Takasago nouvellement créé en 1986, y restant 15 ans avant de rejoindre CPL. Chez Takasago j'ai travaillé avec le grand Pierre Bourdon, que j'avais rencontré à Roure à l'origine.
Y a-t-il des processus d'un projet que vous appréciez le plus?
En fait, j'aime toutes les parties! Le scientifique en moi aime le défi de formuler - trouver les bons matériaux au bon prix - l'esthète en moi aime la pure beauté des créations odorantes, imaginant de nouvelles idées, s'inspirant d'autres sources artistiques. Mais il est particulièrement satisfaisant d'établir des relations avec les clients, de comprendre leurs marques, leurs marchés et leurs préférences personnelles - et de voir leur satisfaction lorsqu'un projet est lancé et devient un best-seller. J'ai eu la chance de travailler avec des clients - et des collègues - du monde entier, ce qui est certainement l'une des parties les plus agréables.
Quel sentiment ressentez-vous lorsque vous voyez une de vos créations en rayon?
C'est toujours un moment très fier. J'ai une très grande collection maintenant chez moi - j'en garde une de tout ce que j'ai jamais fait! J'essaie également de rester en contact avec les clients pour savoir comment mes créations sont rachetées. C'est la vraie mesure, que les gens reviennent pour cela maintes et maintes fois.
Avez-vous d'autres passions en dehors de la parfumerie? - pensez-vous que cela vous aide dans votre rôle?
Nous avons tous besoin de passions en dehors de notre travail, pour nous ressourcer et nous inspirer quand et où nous l'attendons le moins. Je joue au tennis chaque semaine depuis mon plus jeune âge et j'ai ajouté au golf il y a environ 20 ans. Découvrir le golf, c'était comme découvrir la parfumerie - je ne savais même pas que je l'aimerais même, mais cela fait partie de mon ADN. Je suppose qu'ils sont similaires dans leur combinaison de technique, de hasard, de beauté de la nature et de sensation de gagner!
Quel ingrédient aimez-vous le plus utiliser? pourquoi cela vous distingue-t-il?
Je suis un grand fan d'une nouvelle génération de molécules autour de l'ambre, une famille qui comprend l'ambrocénide, le norlimbanol dextro. Ils sont extrêmement puissants, durables et peuvent être utilisés purs ou dilués, permettant toutes sortes d'effets allant de l'ajout de volume et de force à l'ensemble de la composition à donner une signature claire et ultra-moderne ambrée, boisée sèche ou animale. Je les utilise beaucoup dans des parfums de niche pour les hommes et les femmes.
Que pensez-vous de la durabilité et des efforts de CPL?
Le sujet est si important et je suis particulièrement heureux de voir CPL jouer un rôle de premier plan. Cependant, la partie qui m'impacte au quotidien est la sélection des ingrédients pour leur approvisionnement durable. Pour assurer l'avenir de la parfumerie, nous devons adapter tous les aspects de la chaîne de développement pour conserver un large approvisionnement en beaux produits naturels. Dernièrement, j'ai gagné des parfums de luxe qui présenteront nos magnifiques produits naturels issus de sources durables. Heureusement maintenant, c'est une demande des consommateurs et une planète essentielle.
Avez-vous une méthode pour appliquer le parfum? (points de pouls, vêtements, etc.)
Personnellement, j'utilise le parfum très généreusement - je vaporise principalement après m'être habillé et imprégné mes chemises - mais je ne le recommande pas aux femmes, ni aux matières sensibles. Pour l'effet le plus durable, il est toujours préférable de se concentrer sur les «points d'impulsion» du cou et derrière les oreilles, mais aussi derrière les genoux et dans les plis du coude. Pour une diffusion supplémentaire - une touche sur l'ourlet d'une jupe ou d'une robe.
Selon vous, à quoi ressemble l'avenir du parfum?
Magnifique. Outre la preuve de notre capacité à offrir une plus grande durabilité, cette dernière année a consolidé notre place dans la vie des gens. Nous avons vu comment les gens ont besoin de parfums et sont même prêts à acheter en ligne, avec seulement des descriptions et des visuels pour les guider. Qu'il s'agisse d'un parfum personnel ou d'un parfum d'ambiance. En fait, je pense que cela peut être encore mieux que d'entrer dans un grand magasin et d'être inondé d'odeurs. C'est définitivement une alternative. Les vendeurs en ligne proposent désormais des échantillons avec votre achat afin que vous puissiez renvoyer la taille principale si ce n'est pas pour vous. Cela changera la donne. Les parfums devront continuer à s'adapter au besoin croissant de sécurité dans toutes les formulations de produits, mais nous l'avons toujours fait et en tant que parfumeurs, nous aimons les défis créatifs!