Sustainability | People
The health, safety and wellness of people and our society is integral to our sustainability strategy
Our commitments
For society to flourish, all members must have their basic needs met and their human rights protected.
Our commitment to this goes far beyond our own business, and includes everyone we work with across the globe. We're committed to helping local communities, engaging our employees, and providing an inspiring and supportive environment in which they can make a significant impact.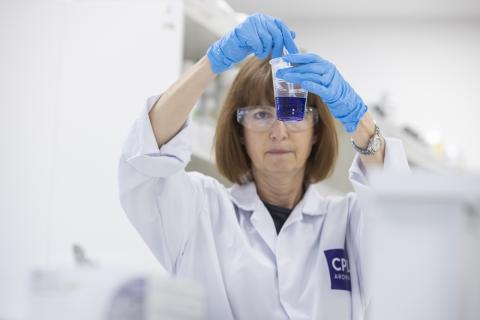 ---
We recognise that our success is centred around our people and their talent. It's the passion, dedication, hard work and creativity of our workforce that enables us to continue to deliver quality fragrances and exceptional customer service.
CPL Aromas want to become an Employer of Choice and we are investing in our HR framework. We want to create an environment within which our employees can experience job satisfaction and continuing professional development, in an environment whereby they can thrive and reach their full potential.
---
We are one global team, where diversity and equal opportunity are important. We believe that by reflecting those societies and cultures in which we operate, our teams are strengthened and reflect the customers in the areas we serve. We provide opportunities for people from all backgrounds, gender, locations and ethnicities, without discrimination.
As an international business, serving customers in over 100 countries around the globe we need the right people in the right location to represent our customers better.
Our ethical and social accountability policy is written in line with the provisions of SA 8000 Social Accountability Standard, which is mandatory throughout the company.
As part of our commitment to become an employer of choice, we continue to develop a workforce of getting the right people in the right roles, and offer the same opportunities irrespective of background, gender, location or ethnicity.
---
The safety, health and wellbeing of our employees is of the highest importance. We operate a global Health & Safety Management Systems in line with OHSAS18001 to help maintain a safe and healthy working environment. CPL Aromas is firmly committed to maintaining and improving all aspects of its health and safety performance.
Our leadership team show their commitment through our Senior Management Audits of Health & Safety. These are conducted yearly at each site, emphasising our commitment for Safety and ensuring our sites are meeting the expectations of the business.
---
We believe in sharing our resources with some of the most marginalised communities of the world. We commit a proportion of our profits every year to charitable initiatives, working on a range of projects that are committed to impacting society for the better.
We are long-standing partners with CAFOD (Catholic Agency for Overseas Development) and work with their inspiring teams on a variety of projects every year. We fund charitable initiatives that help the poorest and most vulnerable communities in the world – regardless of religion or culture.
CAFOD promotes long-term sustainable development, advocates economic justice and works to build peace. CAFOD works in partnership with local organisations on community projects, ensuring the context of the issue is thoroughly understood.
We are very proud to work with the National Association for the Blind (NAB) Perfumery College in India. This provides perfumery training for visually challenged people, with the aim of opening up employment opportunities. CPL Aromas in India collaborates directly with the training of evaluators, fragrance selectors, QC technicians, and consumer panel testing.
Engaging with the communities in which we operate is also vital in ensuring sustainable cities and communities. We are therefore committed to engaging our employees as the primary agents of change in their local communities.
We believe that the benefits of creating a culture in which everyone can thrive and positively impact the communities around us, far outweigh the costs. But we believe giving should be more than just financial. We dedicate time to supporting life-changing activities.
---
Case studies
Our sustainability strategy is driven by our Senior Leadership, our HR representatives and Safety Managers, who are working hard to engage our employees in these areas.