Featured | 26 May 2022
CPL Aromas' 2021 Sustainability Report shows improvement across the board
Sustainability has always been at the heart of CPL Aromas and the work we do. We're committed to preserving our planet's resources, and have a four pillar approach to ensure we stay as sustainable as possible in each area of our business.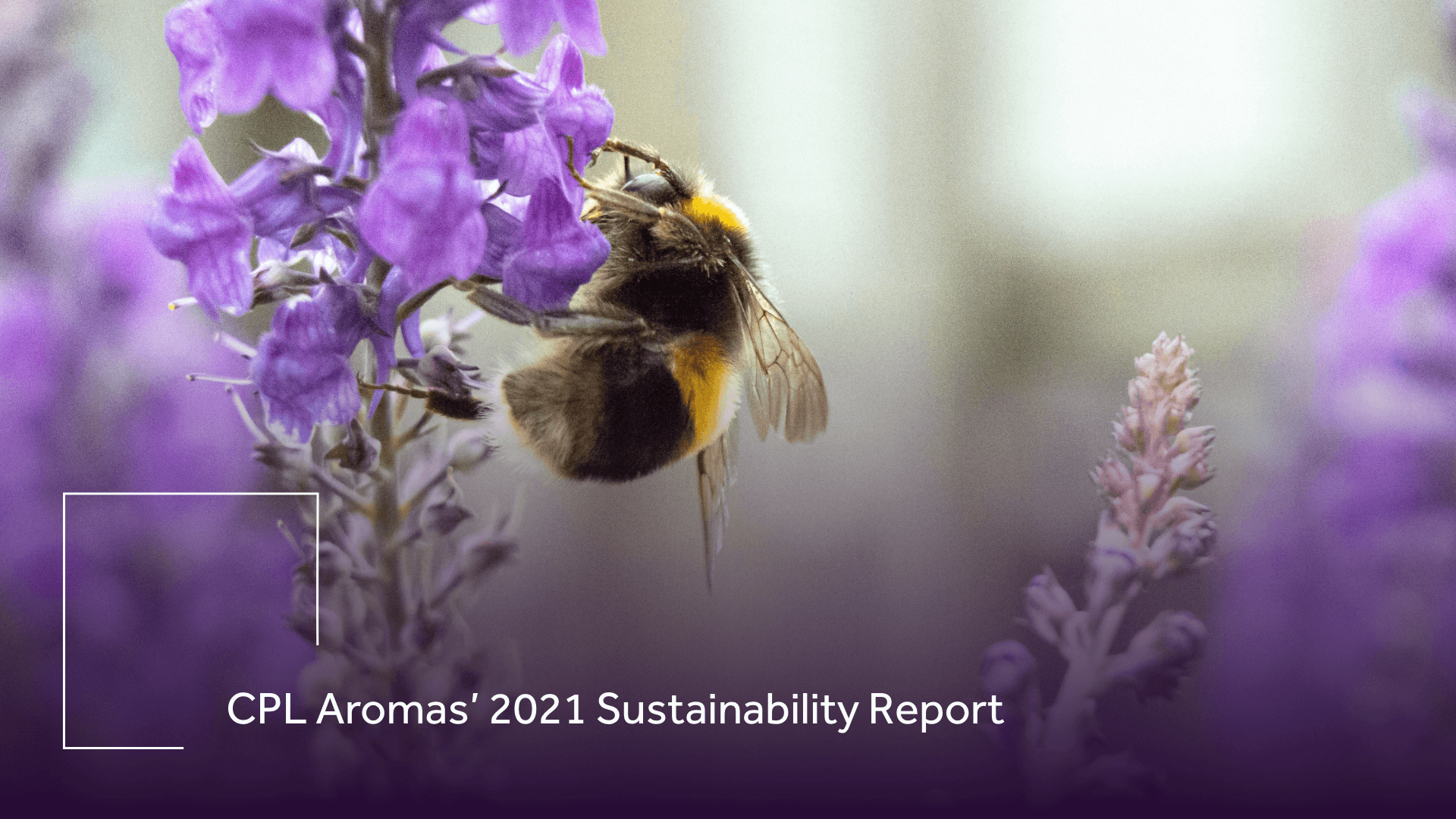 As part of this, we release an annual Sustainability and Impact Report, detailing the progress we're making on the road to our ambitious 2030 Sustainability goals, which are in line with the UN's 17 Sustainable Development Goals.
Our 2021 Sustainability Report
Our 2021 report showed another year of real and tangible sustainability improvements, cemented by our EcoVadis Platinum certification – putting CPL Aromas in the top 1% of companies in its industry when it comes to sustainability.
Other sustainability highlights from 2021 include:
We now generate 21% of our own electricity from our solar panels, and over 50% of our electricity is now from renewable sources

We've reduced the amount of waste that ends up in landfill to 18%

Our Scope 1&2 emissions reduced by 52%

We have now added 31 Responsibly Sourced Ingredients to our raw material palette
This is great progress to see, especially in a year where we launched two new sustainable technologies: AromaSpace, which blends headspace technology and our perfumers' creativity to develop natural fragrances without destroying their source; and EcoBoost Plus, an addition to our EcoBoost technology that allows customers to use up to 20 times less fragrance in their finished products.
Improvements across our four focus areas
The four focus areas at the heart of CPL Aromas are a great foundation for us to mark our achievements, and map out how we can improve further. In 2021 we achieved big goals across all four pillars.
1. Environment
More than 50% of CPL Aromas' electricity now comes from renewable sources, a significant increase from 2020 that puts us well on our way to achieving our lofty 2030 target, and contributing to a reduction in Scope 1&2 emissions by more than 50% in four years.
Our Brixworth site was also named as the first CPL site to achieve zero waste to landfill – and the company as a whole recycled 558 tonnes of waste globally.
2. People
In 2021 we celebrated 92 long-service anniversaries (colleagues working at CPL Aromas for more than five years), and delivered 3,921 hours of functional and value training.
We also had a record year for CAFOD support with our highest donation ever of £455,000 across 2021, and continued our long-term partnership with the National Association for the Blind in India.
3. Innovation
The launches of AromaSpace and EcoBoost Plus technology continued our journey towards sustainable fragrance production. We also launched Upcycled Ingredients and Natural Origins trend sets.
4. Responsible sourcing
Our palette of responsibly sourced ingredients grew by more than 50% in 2021 (vs. 2020), to reach a total of 31 – allowing us to bring better-for-the-planet ingredients to a wider pool of clients and applications.
2021 also saw an impressive 30% of our suppliers conduct assessments on SEDEX, one of the world's leading ethical trade service providers acting to improve working conditions in global supply chains – and more than 88% of CPL's "A" suppliers have signed and committed to the company's Responsible Sourcing & Partnerships policy.
What's next
It's been a great year, but it doesn't stop there. We still have work to do on the way to achieving our 2030 targets, and in 2022 (and beyond) we'll be focusing on:
Measuring and improving the Scope 3 emissions of our partners, to improve on sustainability together

Building our biggest and most sustainable factor, to satisfy our growing demand in a responsible way

Continuing to add further responsibly sourced materials to our palette

Dedicating additional resource to the health, safety and wellbeing of our employees
Let's continue to create together, sustainably.
Find out more about our sustainability vision, and download the 2021 Sustainability Report.