Featured | 10 November 2021
CPL Aromas in conversation: Shifting influences in the world of fragrance
We recently hosted a roundtable discussion with key speakers from the world of fragrance, from industry leaders to well-known and loved brands.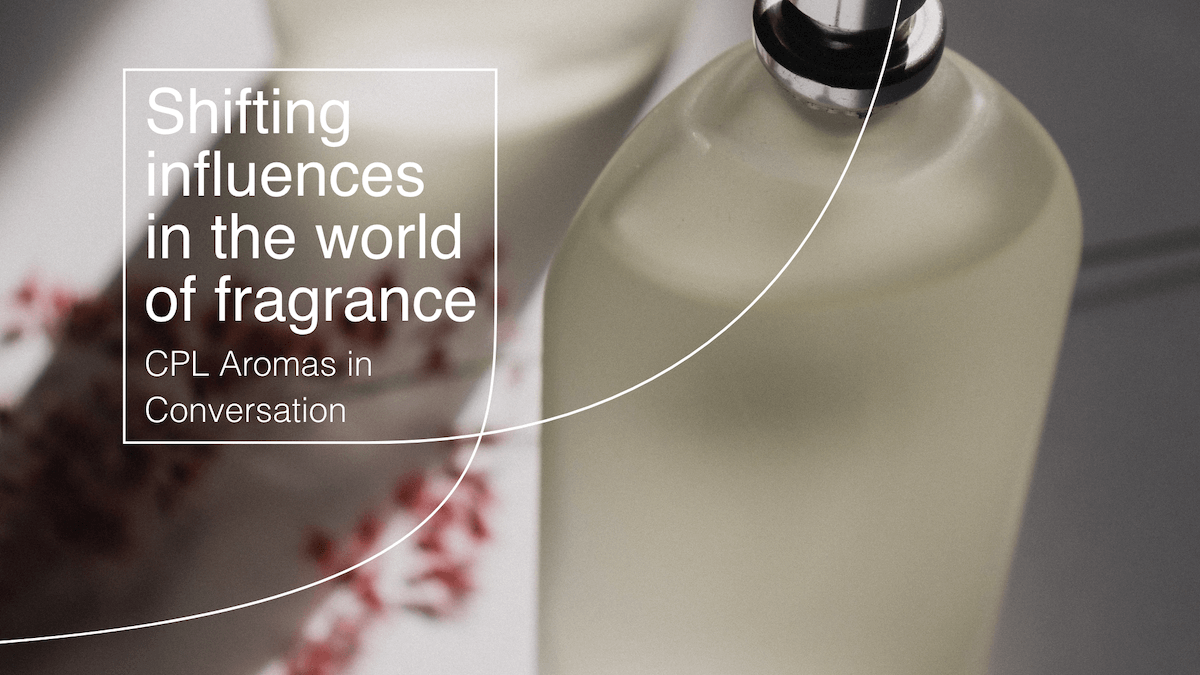 The discussion focused on the shifting influences in the fragrance industry, and how products are changing and evolving to fit with the times.
Below we have recapped some of the key points that came out of the discussion, from the surge in demand for sustainability to the impact of digitalisation.
A sustainable future
Sustainability has grown to become a key driver in product development and marketing, and this is as prevalent in fragrance as anywhere else.
Jocelyn Charman, Head of Operations at Wild Cosmetics, spoke about the brand's push to go above and beyond in their sustainability mission. "Wild is applying for BCorp accreditation, which has been really interesting for us. We've dug deeper into the key metrics like the CO2 metric – the raw materials going into a product really is the biggest lever you can pull to reduce the environmental impact," she said.
"The natural vs. sustainable debate is so interesting for me, especially in my fragrance education. Although we may want a 100% natural fragrance, it isn't always the most sustainable thing to create. It's all about examining how we work as a consumer brand, and being transparent with customers about every part of the product."
Sustainability is a core focus at CPL Aromas. One of our solutions comes in the form of EcoBoost, a smart solution that helps perfumers create impactful fragrances using just 10% of the normal dosage. This not only reduces waste, but also reduces energy used in manufacturing, cuts packaging, transport and disposal costs, and enhances value for money.
The conscious consumer
Consumers are becoming more conscious. Younger generations growing up now are far more aware of the impact of their product choices, in contrast to millennials and older generations. This has heavily influenced the growth of sustainable products and methods.
But the current consumer is also a far more digital-savvy one. They're growing up with platforms like TikTok and Instagram which surface product adverts to them every day – and it can be hard for brands to cut through the noise.
Clayton Ilolahia, who works in Communication and Evaluation for Fragrances of the World, spoke about the changes in consumer behaviour and how these have influenced product development.
"When I was growing up, we didn't have the internet so things weren't as accessible. If you wanted to know something, you'd have to find a book and read about it. But now every young person has all the answers at their fingertips," he said. "Accessibility now is so much easier and faster than even a decade ago. The result? People are more curious and sensitive to those around them. They're always asking themselves: What do I stand for? What are my values?"
Clayton believes this attitude helps to build a better relationship between consumers and brands: "It's a great way for brands to connect and be transparent with their consumer."
The change in consumer behaviour is having a direct impact on fragrance too. "It's no longer about finding a signature scent that you wear for years and years. Today, I think people see fragrance as an experience – and they want to collect many experiences," Clayton said. "This means we're seeing a growth in fragrance subscription services to feed that demand. People are also wanting to explore more and share their feedback on social media – creating a dialogue within their own network."
The new generation of perfumers
Methods of perfumery naturally change through the years – but what does this look like in 2021 terms, with the emphasis on sustainability and experience-led consumer decisions?
Vincent Ricord, Senior Perfumer at CPL Aromas, spoke on the changing role of a perfumer. "When I was training, perfumers were expected to know all the past fragrance creations from the previous century, but now junior and trainee perfumers don't have the same approach. This is great as it pushes us to switch our presence, find new ways to work and new ingredients to work with," he said. "It's inspiring us to use new ways of sourcing ingredients in a much more 'green' way."
The panel agreed that the majority of consumers are ready for a shift to lower dosages – based on sustainability credentials – but agreed that these doses would still have to perform well to win over the younger, more conscious market.
The impact of digitalisation on fragrance
It's clear that digitalisation is having an impact on how people find the products and fragrances they want to buy, but is it impacting the creation of fragrance itself?
"I'm curious to follow digitalisation and see if there are more opportunities to use AI in compositions," said Vincent.
Clayton, however, raised some challenges. "If technology is used just to sell bottles and sell units, we've missed the point. We need to think about how we can curate multi-sensory experiences that help people appreciate fragrances more," he said. "If we have to sell a smell without a consumer being able to physically smell it, this is where the language and emotions we're capable of evoking are needed."
The future of fragrance
So, that's the state of fragrance now – but what does the future look like?
According to the panel, the industry will only get more sustainable in order to survive. Alexandra Kosinski, Director of Perfumery at CPL Aromas, thinks "there's no future in perfumery if it continues as it is now. We have to shift to a more sustainable way of living."
Want to know more? Contact your local CPL Aromas representative to see a full video of the roundtable discussion, and find out how to make fragrances for the future.
Related blog posts