Featured | 11 July 2022
Meet CPL Aromas' Fine Fragrance team
When it comes to the creative talent responsible for the fragrances our team create, it's easy to assume it's all down to our perfumers. However, there are many more people involved than you'd think – and today we're shining a light on another core branch of CPL: the Fine Fragrance team.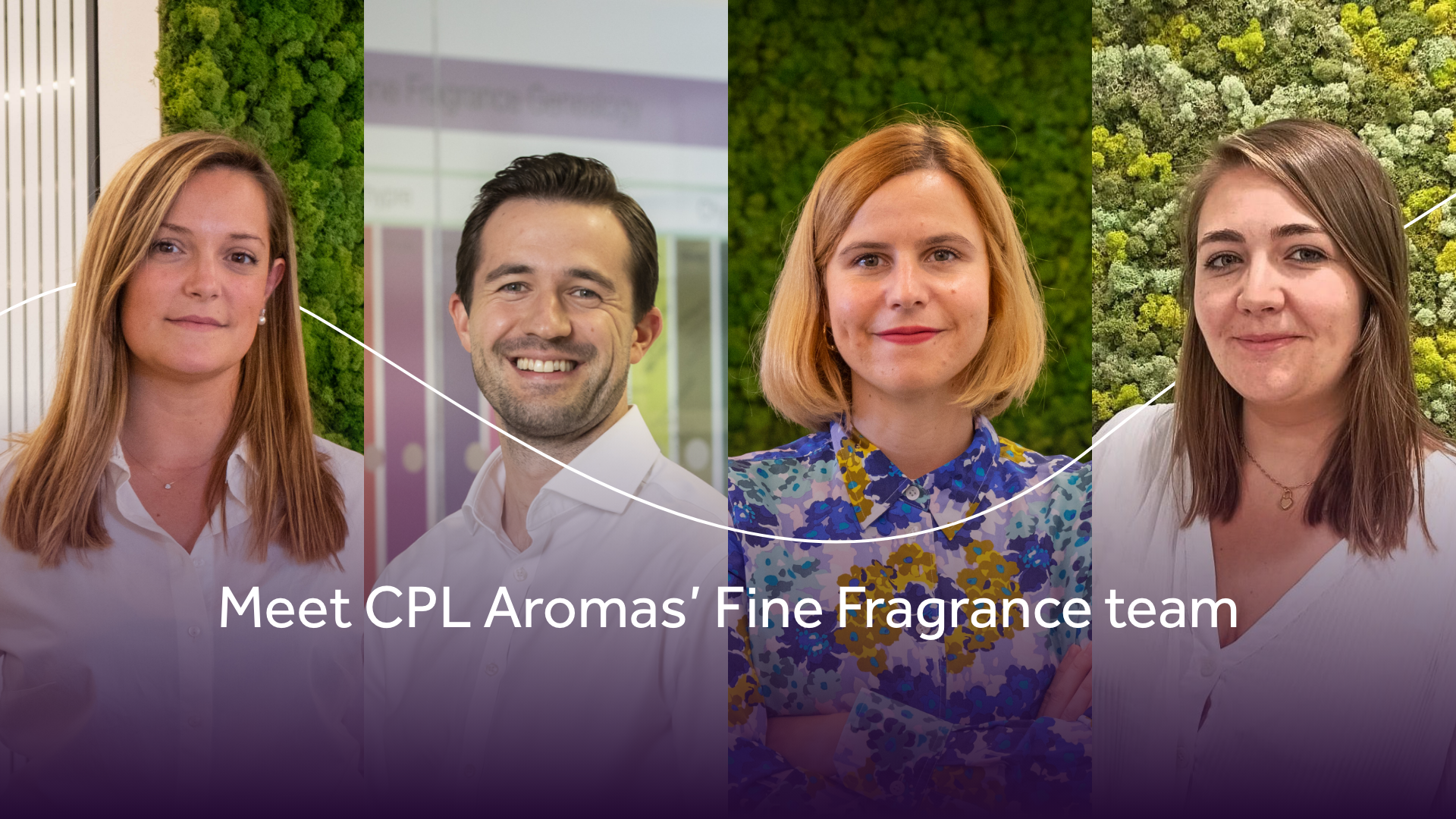 Consisting of Sam, Aitana, Hannah and Neus, we sat down with the Fine Fragrance team to find out more about their roles and how they work with our perfumers to curate award-winning scents for our clients.
What is the team's role?
Sam is CPL's Global Fine Fragrance Sales Director, leading on all commercial and sales-oriented tasks, and is the main point of contact for customers – both current and potential.
Hannah is Fine Fragrance Sales Coordinator, working closely with Sam with day to day enquiries and looks after business development – identifying suitable brands who have yet to dip a toe into the fragrance industry.
Aitana's role is Global Fine Fragrance Developer Manager, coordinating projects, reviewing briefs, engaging perfumers or utilising CPL's own library of scents to pick accords. She also helps to evaluate finished products, feeding back to the perfumers when needed.
Neus' title is Global Fine Fragrance Marketing Manager, she manages the CPL Aromas Visionary Instagram account, as well as designing all supporting materials to communicate the story of each fragrance created.
The team support other CPL sales teams via macro trend reports and market analyses. They also help develop immersive creative events and link with CPL's wider Fine Fragrance Insights team - a network of creative colleagues from around the world to share market updates and ideas.
Where is the team based?
When they are not travelling to visit clients, Sam and Hannah operate from Innovation House in Bishop's Stortford, UK, Neus and Aitana are based in Barcelona, Spain.
What are their favourite projects to date?
For some of the team, it was hard to pick just one project, however, for Hannah, one moment has stood out amongst the rest: Blumenhaus – CPL Aromas' first virtual event held in 2021. For her, despite the changes need to navigate the new normal of the fragrance world post-pandemic, she found the whole experience extremely rewarding.
What are their favourite scents?
For Aitana, one just isn't enough, and she has a whole wardrobe of fragrances. However, when pressed, she did admit her favourite is Golf le Fleur French Waltz, a fragrance CPL Aromas curated in close collaboration with Tyler, the Creator. Similarly, for Hannah, she regularly has five to six scents on the go at one time, and her choice ultimately comes down to her mood on the day.
Neus enjoys scents of the sea, as well as fragrances with warm and woody notes, and Sam keeps a few on rotation – including Dior Homme and Penhaligon's Halfeti.
What do they predict will become the biggest challenge in fine fragrance?
The fragrance industry is fast-moving and ever-changing, however one area the team has noticed more and more is a shifting consumer mindset towards synthetic vs natural materials – with the latter now widely being considered better.
The team is keen to try and use its platform to try to challenge this perception. If all brands switched to 100% natural ingredients, this wouldn't be sustainable.
What does the future of fine fragrance look like?
A hot topic is artificial intelligence (AI)! Evaluators and perfumers used to compile libraries of scents by memory but now, new technological advances mean tools can help too, increasing efficiency and optimising resources.
As these become more advanced and accurate, the team predicts that this area will take off with other companies in the world of fine fragrance – as AI can be used to suggest starting accords for new briefs, saving time and money.
What are their predictions for olfactive horizons in the coming months and years?
Again, for the team, sustainability couldn't be highlighted enough. Ensuring ingredients are responsibly sourced and biodegradable are major factors that they predict more consumers will prioritise in the future, as people demand increasingly responsible choices. It's also likely that more customers will want to know about the composition of fragrances, and fragrance houses will need to move towards being transparent and educating the consumer on what is inside the bottle. Reacting to this, CPL have just launched its Sustainability Index which provides a score for each of our fragrances based upon our four-pillar approach to sustainability: Protecting our Environment; Caring for People; Responsible Innovation and Ethical Sourcing.
Aside from this, the team also predict that the pandemic-induced emotive trend of 'fragrances with benefits', and the research around how scents can change your mood, will grow in the next few years.

Explore CPL Aromas' work, innovations and technologies, here.