Featured | 09 March 2023
Meet CPL Aromas' UK Perfumery Team
Home to CPL Aromas' first ever location, the UK has remained an enduring operational hub for our business even as we've expanded our operations greatly to many global locations.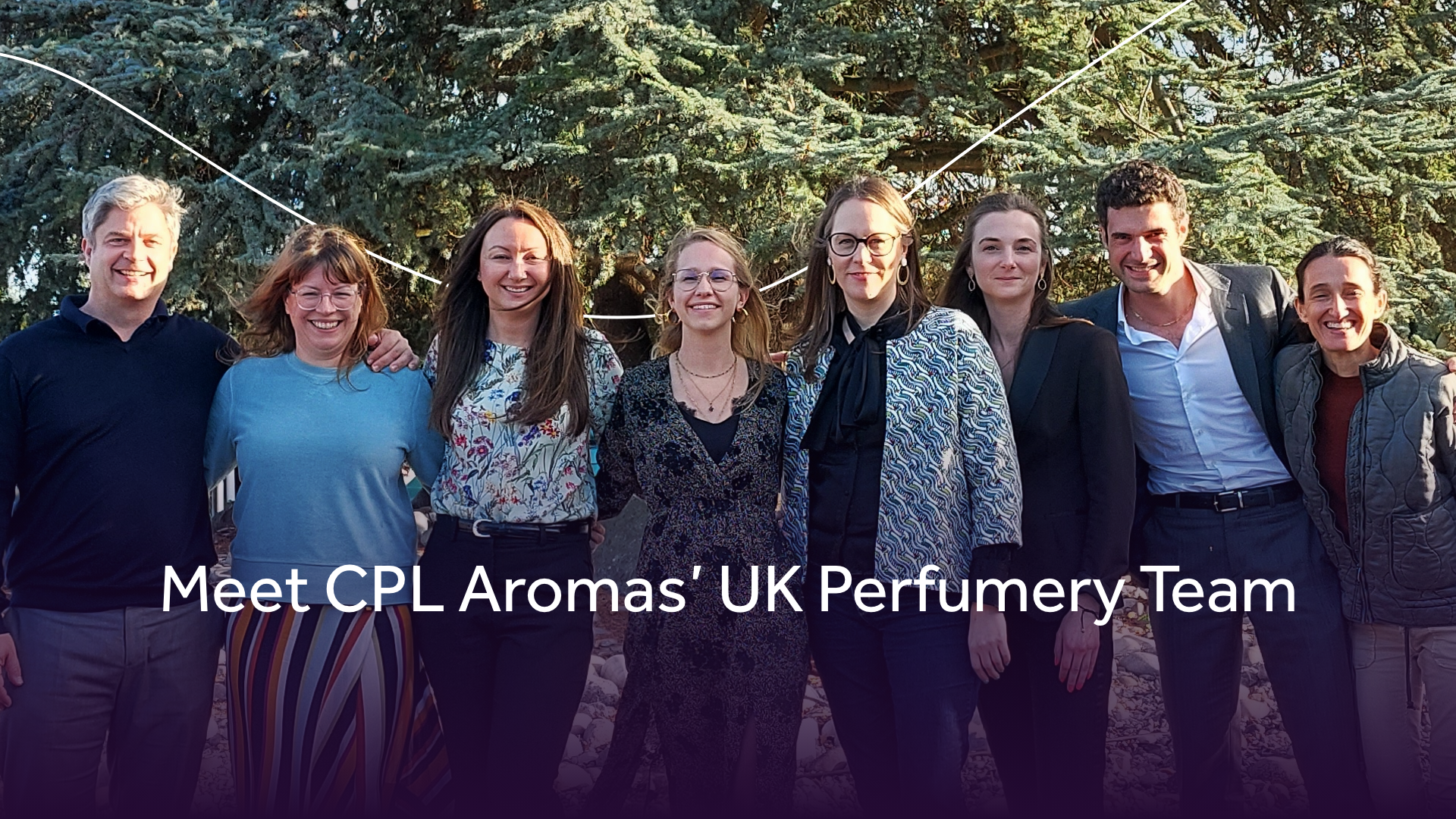 Today, the UK is home to a production plant in Northampton, as well as Innovation House, our creative hub in Hertfordshire. The site is a bustling centre of inspiration where our incredible UK perfumery team concoct bespoke fragrance creations for their global customers.
We spoke to Kamila, Mathieu, Jean-Charles, Angela, Céline, Julie, Elise and Anne-Sylvie – CPL Aromas' team of distinguished UK perfumers - to learn more about their roles and discover how they collaborate to create scents that inspire and delight the fragrance market, while accommodating the changing needs of consumers.
What is the team's role?
For our perfumers, each day is varied and exciting. Mathieu, director of perfumery for CPL Aromas UK, shares that while the team's core role is to create fragrances to fulfil a customer's brief, doing so involves many different complex stages that take the team into a variety of applications and utilise an expansive palette of ingredients.
As with all of our global perfumery teams, the UK team works in a very collaborative fashion – both among themselves in the creation of fragrances, and alongside their colleagues in marketing and evaluation to create the final formula. Kamila, perfumer, highlights that together with marketing, the perfumery team is responsible for creating the story behind a fragrance that will accompany it upon launch – which can help consumers make sense of and connect with the scent.
What is your favourite part of your role?
Anne-Sylvie, senior perfumer, has an ethos of not limiting herself to a singular favourite thing: from colours, to holiday destinations, to aspects of her role. She doesn't like having to choose and instead enjoys embracing the full process of her work, from initially determining the formulation, to envisaging how it will smell, and then to experiencing the final product and connecting with it.
For Angela, UK creative director and perfumer, the greatest highlight of a project is when a customer's perfect scent is found, but she also enjoys receiving samples back from the lab, describing it as a 'daily treat'. When comparing them to the initial formula and her own expectations for the fragrance, Angela loves being met with pleasant surprises that teach her new things about the raw materials and their interactions.
How does the team work collaboratively to spark creativity?
Céline, junior perfumer, finds that creativity comes from working together on a project: with three or four perfumers working on an individual creation, they can all share their interpretation of the brief, collaboratively evaluate scents, and bring together their personal skill-sets and fragrance associations to arrive at something unique every time.
For Jean-Charles, senior perfumer, the key to the collaborative atmosphere among the UK perfumers is the open-plan space in which they work – allowing the team to easily exchange ideas and smell formulas together.
What ingredients do you find resonate with UK consumers?
Elise, junior perfumer, finds that fresh floral scents are consistently popular in the UK. Lavender and rose are especially desirable, and present in a number of best-selling fragrances.
Despite the enduring popularity of florals and aromatics, Angela finds that the UK's consumers are open to an increasing array of ingredients and scents, and that their preferences depend upon the particular application and the latest trends. Recently she's seen a number of Arabic fragrances increasing in popularity, which has made amber notes more desirable in tandem.
Which of CPL Aromas' technologies most appeal to customers in the region?
In the UK, our perfumers see great enthusiasm from brands for our full range of technologies.
Most notably, these customers are drawn in by the true-to-life scent recreation of our AromaSpace technology. Ideal for capturing those popular floral notes, Angela finds that customers respond well to the storytelling the technology enables – helping to create scents that spark powerful memories and emotions.
How have attitudes changed in the last 5 years for those working in the sector?
As individuals seek to be more environmentally conscious, Mathieu notes that the biggest shift in the sector has been the need to innovate and become more sustainable . Consumers have become less singular in their focus on cost – instead seeking a combination of both price and environmental benefits. Through technology like EcoBoost and AromaCore Bio, CPL Aromas is able to give greater opportunities and flexibility to create planet-friendly fragrances.
Mathieu finds that the industry has also become less detached and more collaborative in recent years. Perfumers have become much closer to end consumers than ever before – helping to create products that truly exceed expectations and delight.
Interested in becoming part of the team? Discover our available roles here.
Related blog posts