Featured | 21 June 2023
Replicating the scent of the forest through AromaSpace
The natural world is full of enchanting scents that can transport us to a significant memory or a distant location. Once, these scents would've been tied to the objects from which they originate, irreproducible. But now, through technology, the fragrances of nature can be authentically harnessed – bringing depth to your fragrance creations and evoking emotions.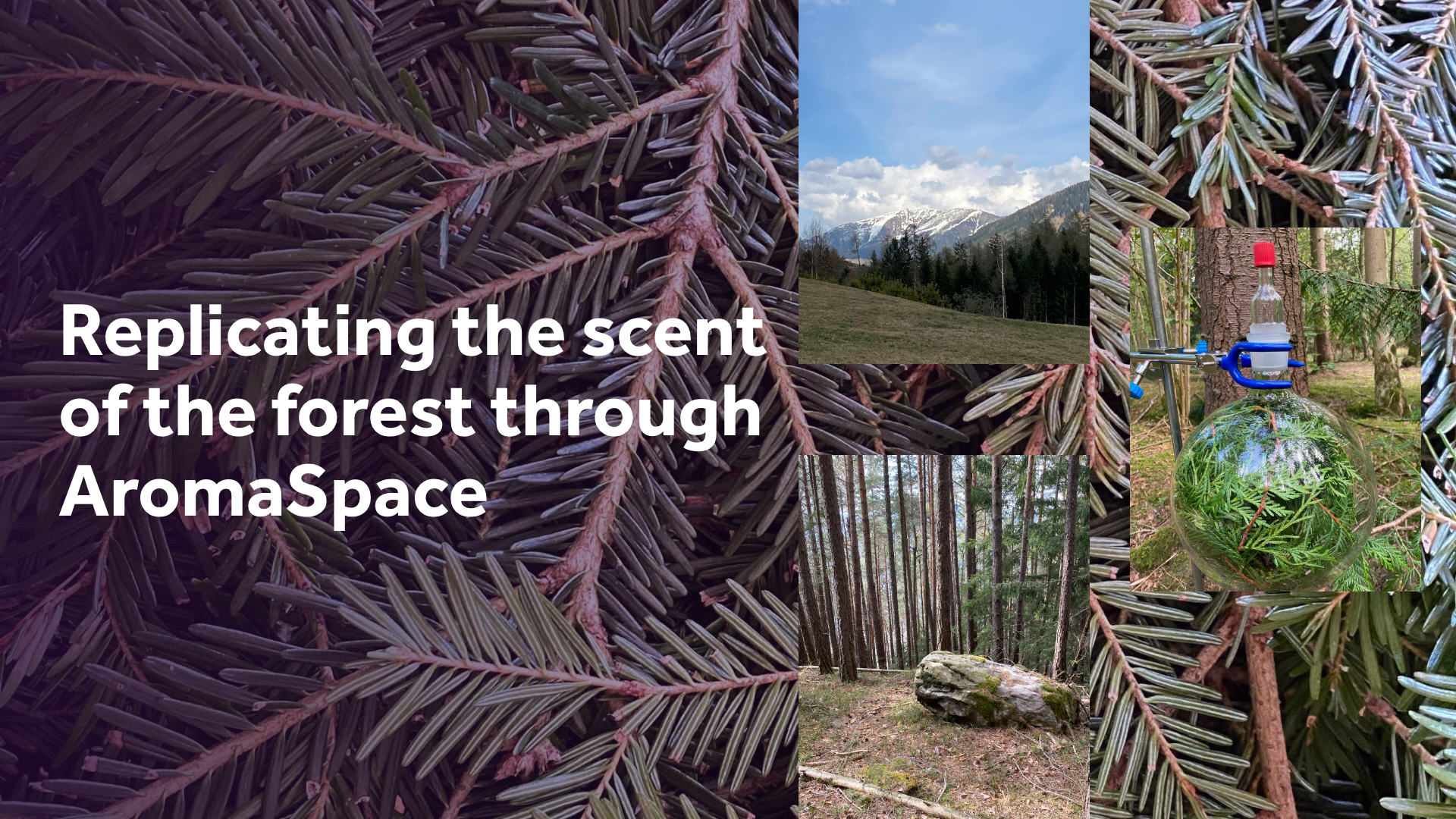 AromaSpace technology
Our AromaSpace technology combines headspace analysis with our perfumers' creativity, producing true to nature fragrances found in the world around us. From the gourmand Coffee Bean, to the fruity Williams Pear, to the floral Magnolia – our AromaSpace bases open up otherwise impossible creative possibilities for both our perfumers and our customers.
But the magic of AromaSpace lies not only in capturing the true essence of a scent, but in encapsulating the sense of place and emotions which some natural ingredients evoke. Our newest AromaSpace base, Forest, is a perfect example of this – and the process of its capture is a testament to our team's dedication to creating unique fragrances.
Introducing our new Forest AromaSpace base
To create our Forest AromaSpace base we sampled a small wood in Baselga di Piné, Italy, the home region of our GC-MS Analyst, Debora Bortolotti. To recreate the natural scent of a forest environment, we sampled both the twigs and needles of a solitary young fir, as well as a section of mossy, humid forest floor.
On the region, Debora said: "The place is called Baselga di Piné, a small village a few kilometres from Trento in the Trentino-Alto Adige region. The village overlooks the plateau of the same name, and it's a popular summer and winter resort, located at the foot of the majestic Lagorai peaks. The name gives away its natural beauty, as it roughly translates to 'Basilica of Pine'."
Our teams' time on location added invaluable depth to the final fragrance, and allowed them to be truly hands-on in their creation. While pines are the most common tree within this forest, Debora opted to instead sample a fir for the base, having assessed its odour in situ as pleasantly terpenic, green, citrusy, and resinous.
Jean-Charles Mignon, Senior Perfumer, said: "When creating this forest scent with the team, it reminded me of the mountain forests. There is a dewy facet to the scent reminiscent of a morning forest bathing session."
Recreating the benefits of forest bathing through scent
Inspiration for the base came from the concept of forest bathing – a method of relaxation popularised in the 1980s, where individuals spend therapeutic time soaking up the aroma and atmosphere of a forest. While people have long found a sense of peace from forests, the contemporary concept of forest bathing originated in Japan as shinrin-yoku.
A walk in the woods can act as an intense aromatherapy session, prompting mindfulness and a sense of wellbeing. Phytoncides, the natural defence system of trees, have a number of positive impacts on people too: boosting immune response, reducing inflammation, boosting mood and relaxing the nervous system. But it's not only trees that contribute to the forest's healing properties. The scent of the nutrient rich soil also acts to naturally boost mood, stimulating the immune system.
Committed to fully experiencing and understanding the inspiration behind their fragrance creation, Debora and Yanina Berrueta Martínez, New Technology Development Manager, undertook a forest bathing session with a qualified guide from the Forest Bathing Institute while collecting samples.
Our Forest AromaSpace mirrors the true scent of forest bathing, full of aromatic accords with hints of moss, pine and the warm comforting notes of woods. This base gives a naturality to a creation and can be used in woody fragrances, or to add greater richness and depth to a citrus scent.
Interested in how utilising an AromaSpace base in your scent creation could evoke unique memories through scent or add depth? Contact us here.
Related blog posts