Featured | 28 October 2022
Meet CPL Aromas' Dubai Sales & Marketing team
Of all the world's regions, the Middle East's unique cultural association with fragrance is among the strongest. To satisfy this expansive and fast-paced market requires a group of people with incredible experience in the region and a depth of fragrance knowledge.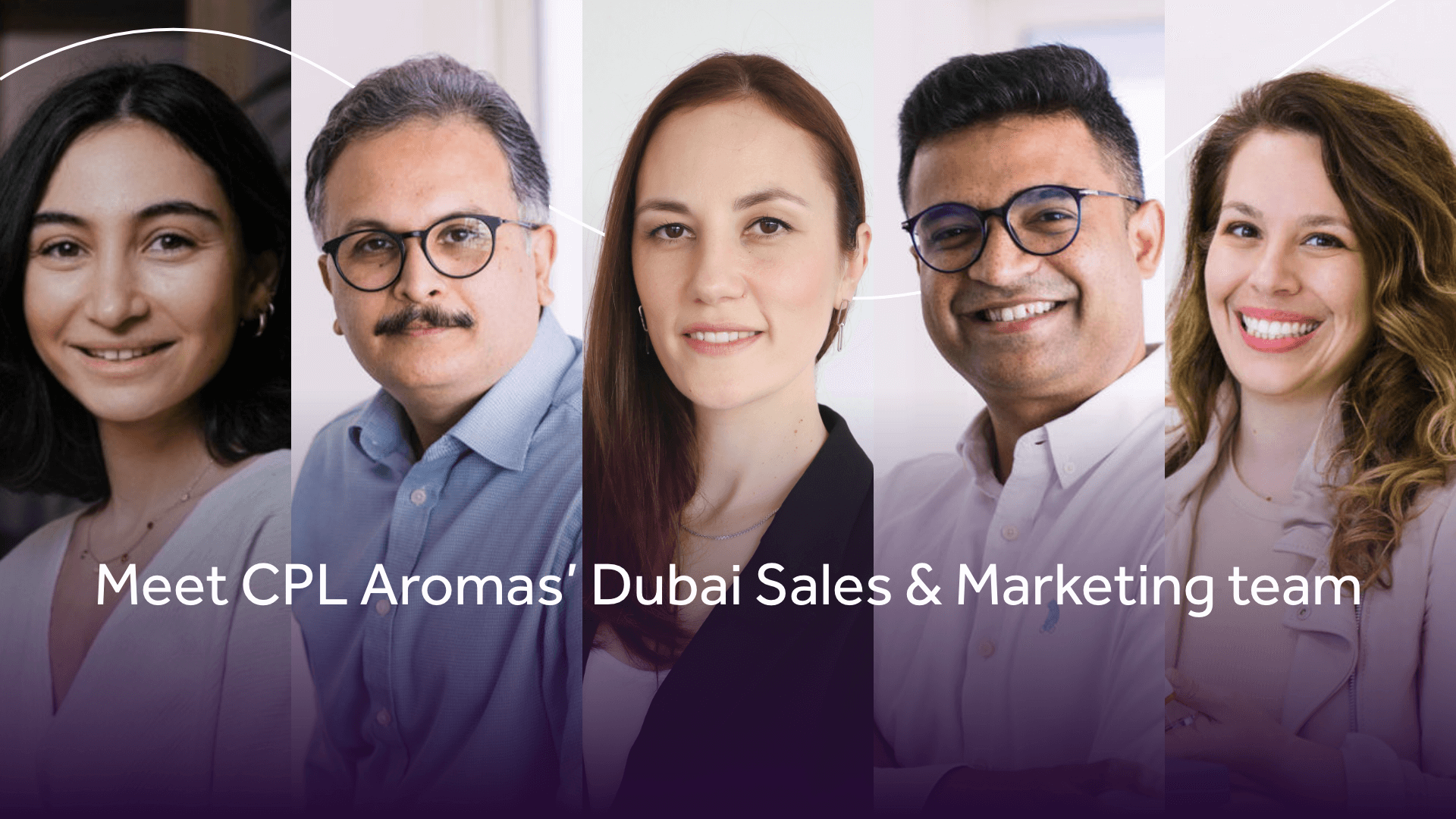 Of all the world's regions, the Middle East's unique cultural association with fragrance is among the strongest. To satisfy this expansive and fast-paced market requires a group of people with incredible experience in the region and a depth of fragrance knowledge.
For CPL Aromas, our work in the Middle East is spearheaded by our Dubai-based Sales and Marketing team. We spoke to Rawya, Khurram, Naufal, Jasmina and Elsa, members of the team, to learn more about the crucial work they do to support our exciting clients in the region.
What is the team's role?
Rawya is the General Manager for CPL Aromas Middle East, leading on broad management within the region as well as our sales and marketing endeavours. Rawya's team feels that she provides vital support to them, giving them the platform and freedom to apply their own creative ideas.
Khurram's role is to lead a young, diverse and multicultural Sales team. With over 19 years working experience in sales, marketing, business development and customer services, Khurram brings incredible experience and knowledge to his position.
Naufal, one of the Dubai team's most senior members, works hand-in-hand with his clients in fragrance creation, ensuring their brief is fully understood and explored creatively to arrive at an incredible final scent.
Jasmina is the Manager of the Evaluation team. She and her team carefully craft fragrances to deliver upon our client's briefs, which Elsa, our Marketing Manager helps bring to life with the creation of supporting marketing concepts – thoughtfully conceived from the scent itself, while also reflecting the region's latest trends.
What is it like to work in fragrance within the Middle East?
Beyond local accords and preferences, within many Middle Eastern cultures there is a deep connection to fragrance. Elsa admires the "ritual of scent", or the way in which it accompanies every part of the day: the finishing touch to every outfit, and a necessary detail for the home.
It's this deep-rooted and inspiring culture of fragrance that has caused the entire Dubai team to be so passionate about scent, and has led to a hands-on approach. From the sales team to evaluators, everyone wants to smell and be involved within the creative process.
What makes CPL Aromas Dubai so unique?
Two reasons: the team and the exclusive local production facilities.
Within the Dubai team, we have the excellent quality and flair of our Perfumers and Evaluators, with whom our customers can work quite closely. We also have a unique Sales and Marketing team; a number of those involved in the sales process come from an entrepreneurial background – an approach which they take into their roles at CPL Aromas. This understanding of the fragrance creation process from both the supplier and the customers' perspective means that the team can uniquely relate to clients to deliver the best experience possible.
The only fragrance house with production facilities in Dubai, CPL Aromas is in an excellent position to provide customers with high quality raw materials that are exclusive to the region. By sourcing and producing locally, the team are able to deliver the most timely fragrance creations while also cutting down on freight costs and reducing their customers' carbon footprints.
What's the best part of working with the Dubai team?
The CPL Aromas Dubai office has become a melting pot, incorporating an incredible mix of team members from across the globe, who enrich product development by bringing their own cultural associations to fragrance creation.
The team also benefits from a great blend of age and experience, with colleagues ranging from those who are just entering the industry to long-standing and highly regarded leading perfumers such as Master Perfumer Christian Provenzano. This variety brings exciting fresh perspectives to each new project, all balanced and supported by the knowledge of highly accomplished industry veterans, resulting in unique concoctions that blend tradition and innovation.
Which of CPL Aromas' technologies most appeal to customers in the region?
Customers contacting the Dubai team are most intrigued by two of CPL Aromas' technologies: AromaSpace and EcoBoost.
The true-to-life scent capturing of AromaSpace resonates with customers for its exclusivity. The ability to expertly recreate a naturally occuring scent, especially one which contains special local or brand significance, is highly unique. As an example, a very popular fruit within the region, the Kholas date, has been made available as an AromaSpace base by the R&D team, after extensive local work.
EcoBoost, our unique fragrance concentration technology, is popular for its ability to bring strong performance to the fragrance, even at a significantly reduced concentration, with great cost improvement and sustainability benefits. The team has found their customers are intrigued by this concept, and by the significant cost and environmental savings it brings to fragrance creation.
What is the best part of attending industry events like Beautyworld Middle East?
For the team, the highlight of attending industry events is the opportunity to share their ideas, breakthroughs and unique scents. Considerable preparation and hard work goes into their creation, and they are delighted to be able to showcase them to the world and to hear our partners' and customers' responses.
Attending Beautyworld Middle East 2022? Come and meet the team at stand 2-A28 from October 31st to November 2nd.