Featured | 12 October 2023
From pumpkin spice to fallen leaves – these are the scents capturing imaginations this autumn
With the arrival of autumn in the Northern Hemisphere comes a time of transition: Trees lose their leaves and long, bright days are replaced by darker mornings and evenings. With this comes a shift in fashion and taste, including the fragrances we're drawn to.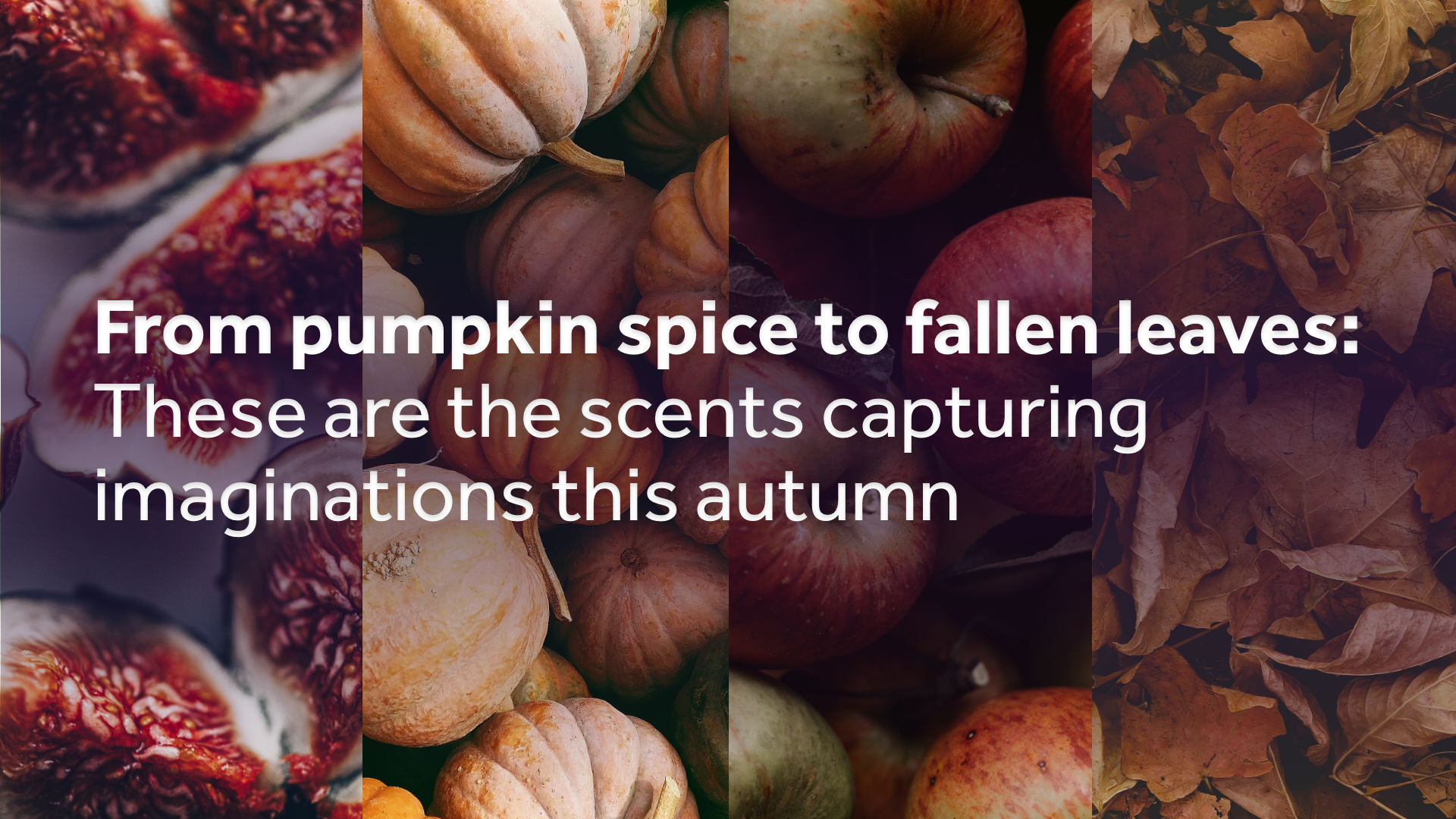 A season full of fragrant connotations, the cooler autumn weather presents the perfect opportunity for a new set of warming, seasonal fragrances to take centre stage in our perfumers' palettes.
But what ingredients and fragrance families are most beloved as we celebrate this new season?
Pumpkin spice
The arrival of pumpkin spice flavours on coffee menus, and pumpkin spice scents in our homes, has become a symbol of autumn. For many, the strong aroma of pumpkin spice is nostalgic, and its warm earthy flavours act as a complement to the crisp, cooling air of the season.
The warmth of pumpkin spice is owed to the many layered and complex ingredients it traditionally contains, all of which are popular in autumn – both independently and when expertly blended.
Central to the blend is often cinnamon: powdery, sweet and comforting. Our perfumers use responsibly sourced cinnamon bark oil from Sri Lanka and Madagascar in the creation of fragrances, bringing a warm, woody touch to a scent.
Other aromatics - such as nutmeg, cloves and ginger - are frequently part of this popular seasonal blend, all adding their own unique layers of spice to create a delicious and rich scent which has become an icon of the season.
Figs and other fruits
As a time of harvest in preparation for the coming winter, fresh fruits and vegetables have long been a part of both our autumn plates and fragrance palettes.
The natural scent from fruits can play a variety of roles in balancing or uplifting a scent. Apples can add a tart and winey aroma to a fragrance, which provides a subtle nod to the harvest season, while figs have a sweet scent that can add complexity.
While the citrus fragrance family may not always be traditionally associated with the season, the mild spicy tone of bergamot also makes it a popular choice in autumnal fragrances, where it adds iridescence and uplifts scents, creating a cosy aroma popular in home fragrances.
Warming amber fragrances
As the weather begins to cool, many turn to the amber fragrance family to provide warmth and evoke a sense of comfort. Rich, long-lasting and gourmand, amber fragrances are welcoming – a sensory equivalent to a warm knitted jumper.
Frankincense may be more traditionally associated with the Christmas period in some cultures, but its complex and balanced aroma has made it a popular choice to add depth to autumnal scents too.
Fallen leaves and the scent of the forest
No visual is more widely synonymous with autumn than the changing colour and falling of leaves. From the crunch of leaves on the ground to their smell in the air, their shedding from deciduous trees is an iconic sensory experience, evoking nostalgia and memories of autumn's past.
Our Forest AromaSpace base echoes this experience, mirroring the true scent of a walk through a forest. Full of aromatic accords with hints of moss, pine and warm comforting notes of woods, this base conjures up the natural changes of autumn and gives a naturality to a creation.
Looking for our help to create a scent which captures the spirit of autumn or another season? Contact us here.