Featured | 21 December 2022
2022: A year of innovation and growth at CPL Aromas
Since the company was founded in 1971, every year at CPL Aromas has been defined by fragrance creativity, exciting team growth and innovative technology developments. 2022 has been a significant one for all of these reasons and more.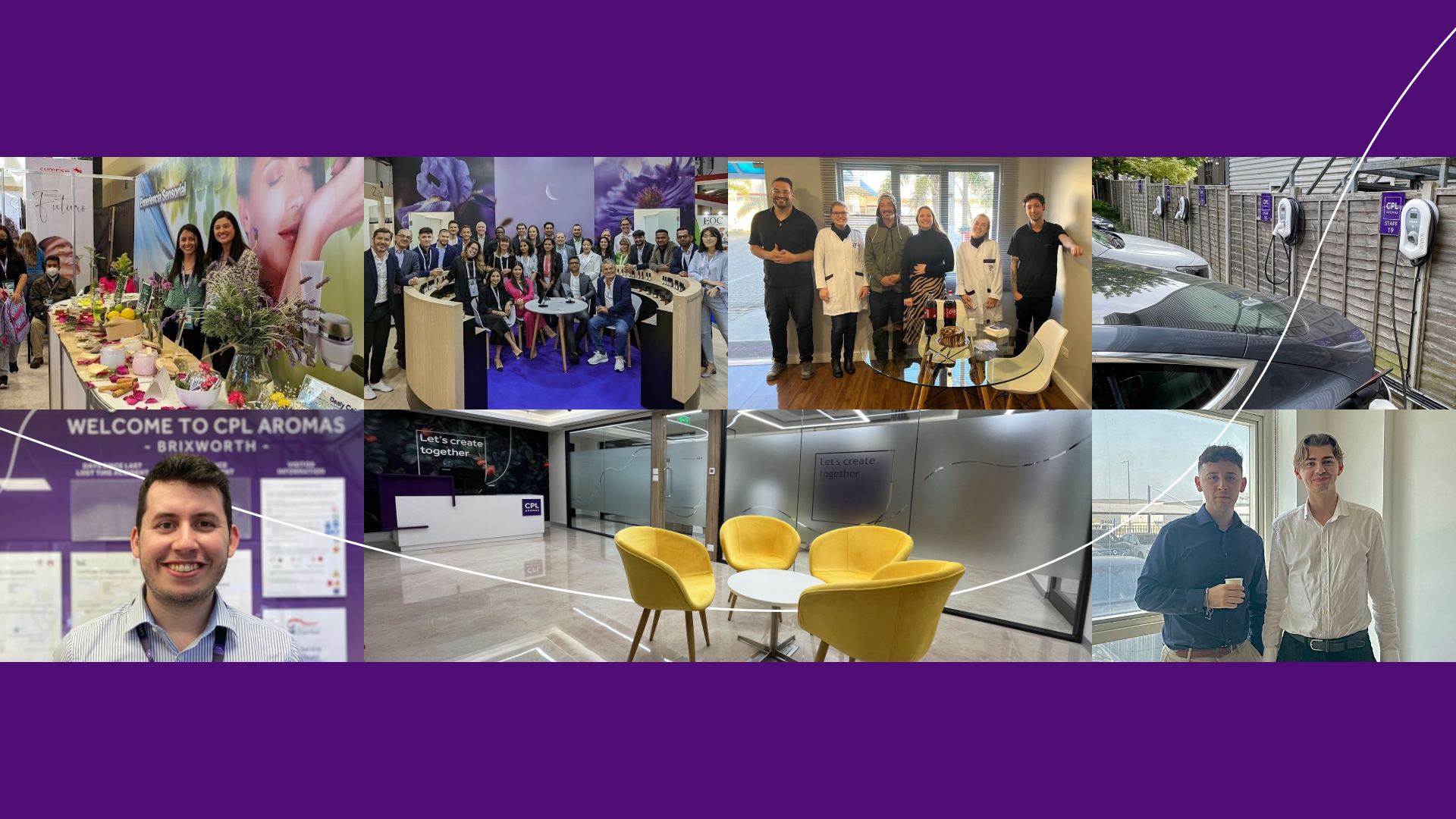 From technology launches to office openings, the team has been incredibly busy in the last year. Join us as we reflect on some of our highlights.
Continuing to bolster our sustainability credentials
Sustainable working practices are integral to how we operate. In 2022, we worked across a number of areas of our business to further strengthen our own sustainability, as well as that of our customers.
This year, we made a number of changes that reflect our passion to become more sustainable across all areas. We introduced paperless panel testing at our Dubai and UK locations to drastically reduce our paper waste, and our Spain and UK facilities became the first to introduce electric charging points – a positive step towards our ambition to have charging stations available at all relevant facilities by 2025.
These initiatives, as well as our other company wide commitments to the environment, were reflected in the standout performance of our 2021 Sustainability Report. Marking another year of across-the-board progress, our 2021 report showcased the improvements we had made in the prior year, including the generation of 21% of our electricity from our own solar panels, and over 50% of our electricity needs now being met from renewable sources.
Expanding our global locations and uplifting our team's spaces
This year has also been a standout one for growth. From announcing our entry into Brazil with the acquisition of Chemarome Brasil, to the relocation and upgrading of a number of existing global team offices to ensure we can provide the best possible service to our regional customers.
In 2022, our Philippines and India team both relocated to new state-of-the-art office facilities, while in China we celebrated the opening of our new Creative Centre – further reinforcing our commitment to serving our customers.
Connecting with clients and friends at industry events
This year, our teams were lucky enough to be able to embrace industry colleagues and clients alike. From promoting the wonders of local ingredients and the power of AI to help find your perfect fragrance at Beautyworld Middle East, to hosting an enchanting sensory demonstration at ExpoCosmética – our teams spent the last year travelling to hear the latest industry trends and share their passion for fragrance far and wide.
We're thankful for everyone who visited our booths, and look forward to seeing even more of you in 2023!
Adding to our perfumers' palettes
The fragrance creativity of our perfumers and development teams is what makes our scents special, and in the last year we've broadened our perfumers' palettes with new innovations and technologies to help them to continue to develop new and exciting creations.
In 2022, we launched our newest addition to the AromaFusion collection, Bouquet Fusion, which brings a carefully balanced floral touch to a composition, and added a new gourmand scent to our true-to-life range of AromaSpace fragrances: Matcha AromaSpace. We were also delighted to finally reveal AromaCore Bio – a patented biodegradable fragrance encapsulation technology that delivers longer-lasting fragrance performance.
Welcoming the third generation of the Pickthall family to our team
We were delighted that this year, we were able to continue to celebrate CPL Aromas' history as a family business, by welcoming the third generation of the Pickthall family: Thomas and Joey.
From our founding by brothers Michael and Terry more than 50 years ago to today, the hands-on involvement of the Pickthalls has persevered and played an incredible role in establishing a family feel among both our teams and our clients.
Thank you to all of our colleagues, clients, friends, and family who have supported CPL Aromas in 2022. We're excited for all that the new year will hold.